تاریخ:شنبه 30 شهریور 1392-05:50 ب.ظ
به درخواست شما حقایقی راجع به سئونگ هو رو در چند پارت میذارم.
×لطفا فرهنگ وب نویسی داشته باشید و با ذکر منبع کپی کنید×
16.به سئونگ هو یه دوچرخه از Kim Ha Neul "حریفش سئونگ هو در فیلم Blindرسیده
17.در موزیک ام وی Brown Eyed Girlsبه نام Dont go, dont go با Lee Se Naبوده.
"لی سه نا با سئونگ هو تو فیلم
City Of Fathers
هم بازی کرده"
18.Jungminعضو گروه بوی.فرند مسلما شبیه به سئونگ هوئه.
"من به شخصه هیچ شباهتی نمیبینم"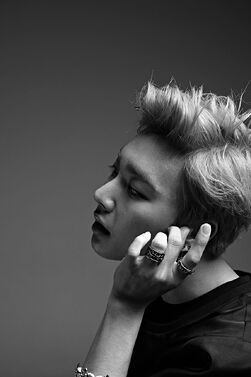 19.علاوه بر جونگ مین بوی.فرند شهروندان بر این عقیده هستن که Minhyuk عضوCn Blue هم شبیه به سئونگ هو هستش
"یعنی این یکی اصلا در مخیله م نمیگنجه"
20.همچنین سئونگ هو با سو جی ساب در G's - A lonely lifeهم بوده.
21.سئونگ همچنین در ام وی Ju Sung Mo - Please take care of her همراه با UEE عضو گروه After Schoolبوده.
22.در ام وی T-ara - Lies هم بوده
"توی پارت قبل گفتم که اولین بو.س.ه ش هم در همین ام وی با جی یون بوده"
23.سئونتگ هو با چندین هنرمند تمرین کرده برای ام وی "Smile Again" واسه پروژهI Love Asia
24.سئونگ هو همچنین شناخته شده با ام ویه Taeyeon's SNSD & The One's - Like a Star با Park Eun Bin
25.سال 2010 سئونگ هو سفیر رویداد جشنواره بین المللی فیلم Chungmuro"CHIFFS"در سئول به همراه Kim Min Jung شد.
26.یکی از نقش های مدل سئونگ هو بازیگر کهنه کار Ahn Sung-Keeئه.
27.درسی که ازش متنفره ریاضیاته
28.درسی که دوس داره تاریخه
مترجم و تایپیست:Yaseman
منبع:
Yoo Seung Ho Iranian Fanclub